Are you looking to expand into new markets?
Whether you are trading home or abroad the key to a successful marketing campaign is having accurate contact data. As the world's leading provider of business information we have access to millions of company records across Europe and are able to offer marketing data solutions to help you expand your business in Europe.
European marketing data lists are available from the following countries:
| | |
| --- | --- |
| Belgium | Finland                      United Kingdom |
| France | Germany |
|  Netherlands | Ireland |
| Italy | Luxembourg |
| Norway | Sweden |
Customizable Data
Our European Marketing Data Lists can be customized on over 20 variables, including:
Credit Rating & Limits
Contact Details
Country
Industry Code
Packages for new customers or renewing customers
Standard Package includes - 0 international prospects
Plus Package includes - 500 international prospects
Premier Pack includes - 1,000 international prospects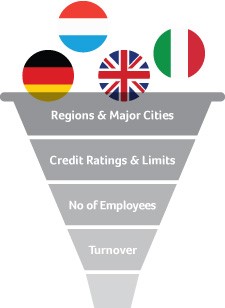 Additional Add-on Packages
 1,500 prospects
10,000 prospects
50,000 prospects
Complete the form on the right for more information
Try a Demo now
Sample our business credit report product demos now to see how easy to use we are.  

International
See the whole picture, reveal hidden linkages and get global information from our unique cross-referenced databases.

Creditsafe 3D
Integrated solution for the high volume user. Improve your portfolio management through business risk assessment.