Multiply the value of your Creditsafe reports into a powerful customer management tool
Integration of Creditsafe's business reports into a full credit risk management solution makes onboarding new customers and managing existing customers easier than ever.
CreditPoint Software empowers businesses to be more efficient and eliminate their credit and collections management challenges through its SaaS software application and services. The company's web-based product suite offers complete credit and collections functionality including bureau integration, credit and collections rule-based workflows, dispute and customer portals, ratings & financial data, business intelligence, and an online credit application. CreditPoint stands as a proven solution for businesses seeking to transform their workflows. 
From small and medium-sized companies, all the way up to Fortune 50, CreditPoint serves a myriad of business types and sizes. CreditPoint is headquartered in Tulsa, Oklahoma.
Maximize Efficiency
Increase Productivity
Rapid Deployment
Streamline Your Process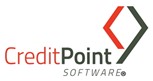 Complete the form on the right for more information
Trade Payment
Share your data to improve payments and reveal poor payers.

International
See the whole picture, reveal hidden linkages and get global information from our unique cross-referenced databases.

Try a Demo now
Sample our business credit report product demos now to see how easy to use we are.