How well do you know your customers, suppliers, competitors, and potential customers?
Creditsafe is the world's most used provider of business credit reports and owner of the world's largest business-to-business credit rating database.
Creditsafe's business credit reports are affordable, high quality and comprehensive, giving you the ability to make the best business decisions possible based on sound performance data. Using our reports can protect you from bad debt and help you make more informed decisions. We're so confident in our reports that we're willing to give you our best deal yet: a free business credit report at no cost and no obligation.
Our business credit reports contain all the information that you would expect in a comprehensive business credit report – including an overall score and credit risk rating -- presented in an easy-to-use format. Key information is available at a glance on every page that you would need to make an informed appraisal of the risk associated with doing business with another company.
Each instantly available online report contains:
Risk Rating – Highly predictive scoring models measure the likelihood of a company's payment performance becoming seriously in the next 12 months
DBT (Days Beyond Terms) – Trade payment analysis highlights how a company pays their suppliers and how it compares to their industry
Trade Payment data – Millions of payment experiences provide an exceptional view of how companies pay their invoices by industry   
Credit Limit – Recommendation of the total amount of credit that should be outstanding at any one time
Legal Filings – Extensive coverage of State/Federal Tax Liens, UCC Filings, Judgments and Bankruptcies.
Group Structure and Linkages – Uncover corporate hierarchical structure by identifying parent companies, subsidiaries and branches at a global level
Financial Data – Directly link to financial statement information based on income statements and balance sheets
Company Information – Robust view of companies  including: Business Type, Address Type,  Number of Employees, Primary SIC Code Industry Classification, Years in Business, Annual Sales Amount, Location Type.
Payment Trend – Powerful trend analysis that tracks companies' payment performance over time
Safe Number – Creditsafe's unique identifier for every registered company
Officer Report – Uncover the officers of each company and identify other known affiliations
Media Solutions – Search millions of news articles on a company and gain additional insight through current events
Commentary – An easy-to-read summary of recent changes that are affecting the company either positively or negatively
Federal Motor Carrier Safety Data – Understand transportation companies' Motor Carrier safety ratings, fleet size and types of cargoes moved
Government Award Information – Identify companies that have been awarded government contracts or grants
Socio Economic Program Participant – Indication whether a company is certified by Federal Government as Socio-Economic impacted entity
Possible OFAC –Flag sanctioned businesses that the U.S. government prohibits from trading with under the Patriot Act
Google Maps – Pin-point the exact location of a business
How we make them
To create our business credit reports, we start with the original source or the best third-party verified data available covering all US businesses (excluding self-completed information). We then cross-reference it with our own international databases to build our online business credit reports.
Our trade payment lines enable us to calculate an accurate picture of a business' payment performance and allow you to gauge how they rank against their industry. With market-leading numbers of partners, we have in excess of 100 million trade payment lines in our databases. On average we provide over 50 lines of information in each delivered report and show more than one line on at least 24 million businesses.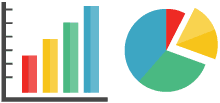 Our business credit scores and limits are constructed using powerful analytical tools that are constantly verified to ensure the accuracy of their predictability. We cross-reference our US group structure information with our international databases to make certain that we can always show all the associated businesses from around the world.
We provide all this rich data in an intuitive format which means you can always find the data you need easily and check business credit scores right away.
How you get them
The best business credit reports in the world aren't worth reading if they're not about the actual business you're doing business with. Our online business credit reports are powered by Creditsafe's search engine. We'll always generate a full selection of search results so you can be certain you're looking at the right business.
Our possible matches function will enable you to see businesses that share either the same name and address as the business you've searched for, or parts of the name or parts of the address. This is a great way of finding a false shell company or identifying those businesses that keep setting up with slightly different names out of the same address after a track record of failure.

Since we have the world's largest cross-referenced database, we'll also conduct an international search every time so you can immediately spot any associated or similar business from around the world. Our freedom access model means you never have to worry about the cost of accidentally checking a business credit report.
Trading Internationally?
We offer instant access to over 190 million companies in our international reports.
Complete the form on the right for more information
Get a Free Report
Try a free business credit report to see how our intelligence can help your business. 

Try a Demo now
Sample our business credit report product demos now to see how easy to use we are.  

Request Prices
Learn more about the prices of our product packages